Current US Dress Sizes
While there are a host of different clothes size charts including Petite and Junior, most women fit into either the Misses or Womens size ranges, the other size charts being used for different body shape variations. The misses' sizes number range is similar to the UK dress sizing system and ranges from the smallest size 2 to the largest size 20. The womens sizes are similar to the European dress sizes and range from size 38 to size 50. Examine the following charts to see what size you should fit into:
Misses Sizes
Size
Bust
Waist
Hips
in
cm
in
cm
in
cm
2
33.0
83.8
24.5
62.2
35.0
88.9
4
34.0
86.4
25.5
64.8
36.5
92.7
6
34.0
86.4
26.5
67.3
37.5
95.3
8
35.0
88.9
27.5
69.9
38.5
97.8
10
36.0
91.4
28.5
72.4
39.5
100.3
12
37.5
95.3
30.0
76.2
41.0
104.1
14
39.0
99.1
31.5
80.0
42.5
108.0
16
40.5
102.9
33.0
83.8
44.0
111.8
18
42.0
106.7
34.5
87.6
45.5
115.6
20
44.0
111.8
36.5
92.7
47.5
120.7
Womens Sizes
Size
Bust
Waist
Hips
in
cm
in
cm
in
cm
38
42.0
106.7
35.0
88.9
44.0
111.8
40
44.0
111.8
37.0
94.0
46.0
116.8
42
46.0
116.8
39.0
99.0
48.0
121.9
44
48.0
121.9
41.5
105.4
50.0
127.0
46
50.0
127.0
44.0
111.8
52.0
132.1
48
52.0
132.1
46.5
118.1
54.0
137.2
50
54.0
137.2
49.0
124.5
56.0
142.2
US dress sizes are also used in Canada and some of the Carribean nations.
US Dress Size Variation
If you're like most shoppers who are past their teenage years, you've probably noticed that your size may go up or down depending on which brand you choose on any given day. Even within brands, the number in those labels seems to be shrinking from year to year. While it always feels good to think that your dress size has gone down, you may wonder how it could be possible when you haven't managed to lose even a single pound. The American Society for Testing and Materials (ASTM) does in fact have a standard for US Misses dress sizes, D5585, that defines the measurements for each size.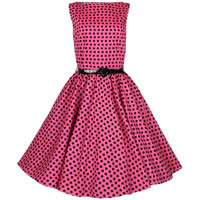 Vanity Sizing
What you're noticing is a not-so-new marketing technique known as "vanity sizing." Many clothing manufactures are cashing in on the fact that some shoppers will buy their brand if they can go home with a size 10 instead of the size 12 that the competition offers. Is there really any size difference between the two different dresses? Of course, there isn't, but, somehow, we all feel slimmer with that smaller number embossed on the designer's label.
US Dress Size History
In the 1940s and 1950s, standard US dress sizes were formulated from statistical data. At that time, they were very similar to British dress sizes. However, due to vanity sizing, the current US dress sizes have little or no meaning. In fact, these arbitrary numbers only serve as a general guideline. Long gone are the days when the man in your life could present you with a special dress at the last minute for a surprise night out with the knowledge that it would fit perfectly. Today's woman must spend hours in the dressing room to achieve the same effect.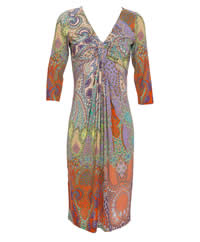 Petite, Junior & Half Sizes
There are a number of other clothing sizes which are used in the US mostly for shorter ladies, including Miss Petite, Junior, Junior Petite, Young Junior and Half Sizes. At the current time we have little evidence as to how widespread the use of any of the aforementioned sizes is, therefore they only get this brief mention.
The Pressure to be Smaller
Part of the reason for shrinking sizes is that women feel increasing pressure to be smaller. Movies, television, and magazines continue to set the standard for female beauty, and that standard is unachievably tiny for most women. In fact, most women could diet to the point of starvation and never fit into a true size 2 dress. Consider the fact that Marilyn Monroe, an American icon of beauty and sex appeal, wore sizes that ranged from a 10 to a 12. Her size would be more like a size 6 by today's standards. Do those numbers make Marilyn any less beautiful? It's important to note that US dress sizes are only numbers. They should not be a measure of anyone's attractiveness or self-esteem, but only an invisible number that shouldn't be given any power or meaning.